What is Support Chat System?
Support chat system is a type of online customer service where customers can communicate with a business or support team in real-time through a messaging platform. This system allows customers to get instant answers to their queries and resolve their issues quickly, improving their overall experience interacting with the business.
Support Chat is a game-changing, user-centric integrated chat solution that completely transforms the contact experience of users. It optimizes the connecting and conversing processes by integrating popular messaging networks such as Custom Build Live Chat, Messenger, Viber, and WhatsApp. Now users no longer have to switch between apps or worry about compatibility difficulties. Support Chat provides a uniform interface for consumers where they contact using their preferred chat platform.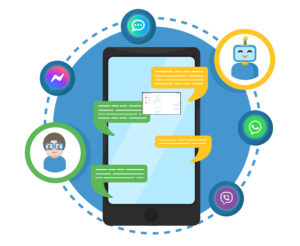 What is the purpose of Support Chat System?
Here are some features of support chat system.
1. Multiple Chat Tools in a Single Platform: Multiple popular messaging networks such as Custom Build Live Chat, Messenger, Viber, and WhatsApp integrated in a single system.
2. Message Transfer: One admin user can transfer their messages to another for chatting purpose.
3. Discussion Forum Integrated: A discussion forum is an internet-based group. These discussion forums usually allow users to exchange ideas and have conversations.
4. Screen Sharing: Screen Sharing allows customers to virtually share their screen from anywhere in the world in real-time, without having to send each other screenshots or a screen recording.
5. Outbound Call: Support Chat System has outbound call feature which is used to make outbound/outgoing phone calls to the customers on behalf of a business or product or promotion.
Why Multiple Chat System is important for every business?
Multiple chat tools in a single platform are important for online businesses for several reasons. It provides customers with various options to communicate with the support team, which can include live chat, voice chat, screen sharing, and share ideas in discussion forum. This helps customers to communicate in the way that is most comfortable for them.
It can also help businesses manage their customer support operations more efficiently. Having all of the communication channels such as, Messenger, Viber, WhatsApp available in one platform makes it easier for support teams to manage queries from different channels. This can help businesses to streamline their support operations and provide faster response times.
This system helps to improve customer satisfaction. With more options to communicate, customers are more likely to find a channel that meets their needs and are less likely to be frustrated by the lack of options. This can result in higher customer satisfaction and better customer retention.
Mainly, it is important for online businesses and ecommerce company to have a multiple chat tools as it can improve customer experience and support team efficiency, which can translate into higher outcome and better business results.